Not sure whether to count this one as Bento #13 or not... this was a lunch for my hubby to take to work. 2 of the 4 little ones forgot their lunchboxes at school on Wednesday, so they all bought school lunches on Thursday.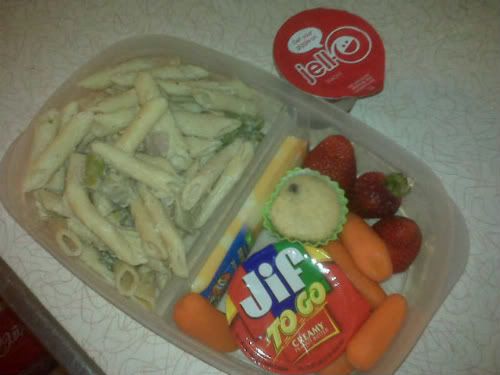 Hubby had leftover pasta (penne pasta with alfredo sauce, baby bella mushrooms, asparagus, broccoli, and proscuitto), carrots with peanut butter for dipping, strawberries, a cheese stick, and a mini blueberry muffin. And a pudding for dessert.
If you remember my complaints about the school lunch menu, I definitely have more to say on that subject after yesterday's experience. When the kids got out of school, I asked them each what they had. Niko said "meat, mashed potatoes, and a roll. With berry juice" Ceci said "Meat "stuff", mashed potatoes with gravy, and a roll. With orange juice." Sabrina started to say, "Chicken fried steak..." when Abbi interrupted her with "No! It was meatloaf!"
The meal actually was chicken fried steak with mashed potatoes and gravy, and a dinner roll. Yup... breaded meat, potatoes, and bread. Carbs, carbs, and more carbs. Two of the four kids said there was a salad bar with lettuce and carrots, but they didn't go to it. Abbi was not happy that she had missed out on a salad bar since she is actually one that will eat salads, yet none of the cafeteria workers seemed to have pointed out that it was there. None of the kids could remember a fruit being offered. I think it's ridiculous that the kids were given THREE carbohydrate heavy items, that there was no veggie or fruit put on their trays (really? it's too hard to add a scoop of green beans or peas? put some fresh grapes on each tray?), and that 3 of the 4 kids weren't even sure what they were being fed!