Here in California, we're in the midst of a "record-breaking storm". We're supposed to get more rain in the next 2 day period than at any other time in the last 50 years. When it comes to rainy, gray, wet days I find it really hard to find my get-up-and-go, so what better way to pass the time than by writing a blog post... and hosting a giveaway?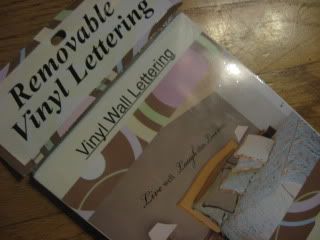 The prize: Vinyl Wall Lettering, one of the biggest trends around right now! This one says "Live well, Laugh often, Love always".
How to win:
For one entry, post a comment below.
For a second entry, follow my blog through Blogger or an RSS reader (like Bloglines or Google Reader) ~ post a second comment letting me know that you're following.
For a third entry, post your favorite low-carb-friendly cold weather recipe (let's try to keep it under 30g carb/serving).
For a fourth entry, post about this giveaway on your blog and post a comment here with the direct link to your post.
Entries close Thursday, October 29th. Winner will be announced on Friday, October 30th.