Last week was busy with all of the "usual" stuff... the daily laundry, dishes, matriculation, and such. On Friday I played hooky from my chores for a couple of hours and visited a friend.
Saturday morning I was able to finally do some "me" shopping to try to replenish my very sad and neglected wardrobe. Using birthday money and gift cards I purchased 6 new tees, a camp shirt w/ matching cami, 2 pairs of jeans, a hoodie, a pair of flip flops, a pair of mary jane tennies, and 2 pairs of sock "liners". I need to buy a few more cheap $5 tees before I feel truly comfortable throwing out almost all of my stained/holey/bleached out shirts. I do need to keep a few for cleaning the bathroom and painting. Saturday afternoon was another baseball game of course.
Sunday afternoon I got to take Nicholas to see his very first play. We saw a stage adaptation of "If You Give A Mouse A Cookie" which happens to be his favorite series of books. He had a BLAST!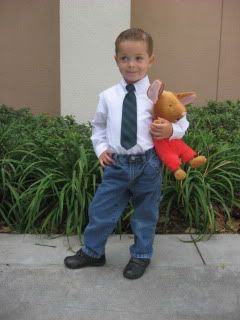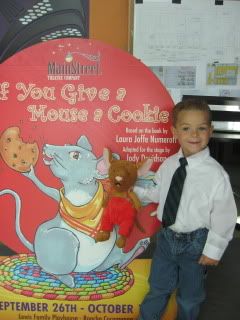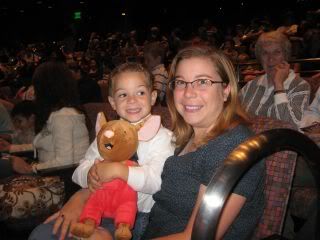 Today, in between grocery shopping, laundry, dishes, etc. I found the time to put a few coats of spray paint on two flower pots. The white stripes on these have been flaking off, and I just wasn't as "in love" with the bright color as I was when I bought them (on deep-clearance of course). I like them much better in their new coat of "hammered bronze" and will be filling them with mums for the season. Is it such a bad sin to use fake mums in them for a few weeks, since I will undoubtedly kill off real mums before the season is over?