As of last Friday, I left my twenties behind. That's right, I turned the big Three Zero. We had my favorite kind of weekend... quiet and drama free! Hubby treated me to sushi on Friday night, then a couple of hours of antique shopping at a huge antique mall on Saturday afternoon followed by an evening of dinner theater!
The antique mall was HUGE. Over 47,000 square feet of vintage and retro goodies. I saw quite a few lovely pieces that I would love to go back and get... Milk glass vases, cranberry glass compotes, a gorgeous set of pyrex bowls in the Gooseberry pattern to add to my growing collection (it will match my pink KitchenAid mixer!), lovely buffets and china cabinets and secretary desks and a darling gossip bench and.... *sigh* Oh, and while at the antique store, I found a smaller version of the vintage lamp shown in my previous post, but with roses instead of daisies and without such a large base... freshly repainted in a coat of white paint with a brand new shade, and selling for $30. I think I got a great deal! (Although I am thinking the smaller rose lamp might need to find a home on Sabrina's nightstand....)
Photo Credit: King Richard's Antique Mall
We saw "Singing in the Rain" at the Curtain Call dinner theater. As one of my favorite musicals of all times, it was very fun to see this Broadway style stage adaptation. The lead actress had an amazing voice... just so clear and lovely. All of the tap dancing was wonderful too! I keep realizing that I am humming "Good Morning" and "Moses Supposes" under my breath.
Photo Credit: Curtain Call Theater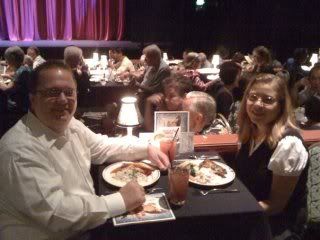 Me and the hubby enjoying our dinner before the show!