If you're a fan of all the wonderful home-improvement and do-it-yourself blogs out there, you have probably heard of these by now. It's the Rustoleum Comfort Grip handle.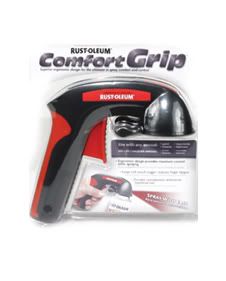 It's simply a handle that clips into place over a spray can's nozzle, enabling you to grip it like a trigger. This has been such a great help over the past few days while working to finish up the girls' bedroom project. No more achey pointer finger!
One word of caution though... Be sure to aim the nozzle FORWARD each time you load a new can otherwise when you press the trigger, your entire hand will quickly be covered in paint. Not that I would know from experience or anything like that....
You can use it on more than just cans of spray paint too! At under $7, this is definitely something to grab if you have a lot of aerosol rich projects in your future!