I'm posting my blog entry for the day a bit earlier than usual. I have to do my accounting homework after the kids are in bed, so I wanted to get this out of the way for now.
First, an embarrassing picture of Niko. He did not want to model this dress for me, but I wanted to be able to show it to a friend in hopes of
getting rid of it
finding a new home for it. I made it a long time ago when I was just learning to make pillowcase dresses, and before finding my favorite pattern for them. And the eyelet lace fabric that I used to make it is on the thin side, making it rather revealing... guess it will work for a swimsuit cover up or something!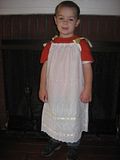 In taking that picture, I found that Niko is officially too old to willingly don a dress to model it for me. I told him I would take the picture so it didn't show his face. So he let me... And then he got mad when he saw that I did show his face. And complained, "Now everyone on the computer will see me in a DRESS!" Sorry Niko, but you're too cute!!
We took my van in this morning and got the hubcap replaced. On our way home, we stopped by the nursery and picked up the first two vegetable plants for our garden. We bought cherry tomatoes and "burpless" cucumbers.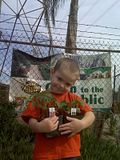 Nicholas asked me what each of the vegetable plants were as we walked down the aisles. When I got to the eggplants, he got very excited. I told him I didn't want to buy them, since I am the only person in the family that likes them. He proceeded to argue with me, stating that everyone in the house loves
eggs
! I got a good giggle out of that, as I explained to him that eggplants grow eggplants, not EGGS!
Cecilia has a very, very, very wiggly tooth. She will not let me pull it out. I am getting tired of seeing it dangling out of her mouth, all snaggly-toothed like this. I hope it falls out soon!