Poor Cecilia stayed home from school today with a fever. She slept most of the day. I would have gladly just stayed home and babied her all day long, but we had to go out and pay some bills that were due today. While waiting at a stop light, I glanced across the road and...
Did you read that as "Bland" Hawaiian food at first? Because I did, and I was totally busting up. No wonder they went out of business!
While dinner was cooking, Sarah-Michelle sent me a link to another hair styling blog. Cecilia saw
this one
up on the screen and asked me to do it to her hair. I think it came out pretty cute for a quick attempt! (I need to get some clear elastics.)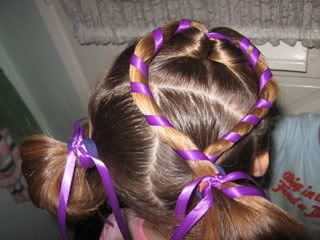 Update on the wool-eater blanket:
It uses a LOT of yarn. I used up all of the purple (one skein) and variegated (two skeins), and have also used up an entire Red Heart skin in the pink and have had to start a second one! (Thanks Gloria for sending me a skein of the light raspberry - you saved me a trip to Walmarts! Yes, I say Walmarts and Kmarts and my hubby hates that I add the S on the end.) I will probably have to buy one more skein of the pink to get it to a good "throw" size, which will make it a total of six skeins for a rather small blanket! I am so used to crib sized blankets that only take 2 small skeins.