I first came across this recipe through
Dell's blog
, and it sounded like so much fun that I filed it away in that cluttered storage cabinet that is my mind. Since I picked up some vegetables from the nursery to plant in our garden, I decided to take stock of what I need to do before I can plant... Namely pulling up the weeds that have over grown the area, and mixing in some fresh soil. When I saw all of the dandelions that were growing so profusely, I decided that today would be a great day to try out
this recipe
!
Niko and I started by harvesting as many dandelion flowers as we could, and put them all in a colander to give them a good rinse.
We pulled off the hard green flower bases, and separated out all the pretty yellow and fluffy white flowers. Dandelions are actually related to sunflowers, as each of those dandelion heads are composed of many, many small individual flowers.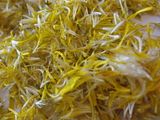 I omitted the oil from this recipe completely, substituting in a half cup of applesauce.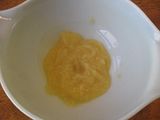 One half-cup of honey.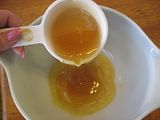 Two eggs.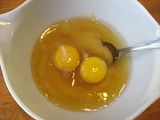 One teaspoon vanilla.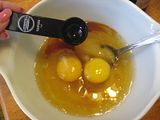 One cup unbleached whole wheat flour.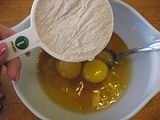 One half cup oats.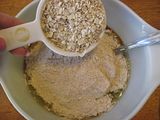 Give it all a good mix...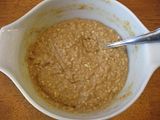 Add in half of a cup of dandelion flowers.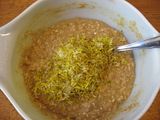 Mix the flowers in.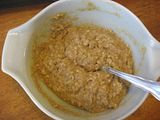 And spoon on to a cookie sheet.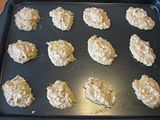 Bake at 375* for 10-15 minutes, then remove to a cooling rack.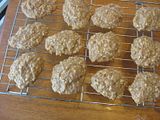 Admire the pretty little flecks of yellow dandelion flowers in your cookies.
And enjoy!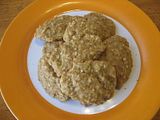 These were pretty interesting. They were fun to make, and didn't taste bad either! They tasted very strongly of honey, and had a soft chewy texture like the top of a muffin. This was a fun ingredient to try out, and I can see adding dandelion flowers to things like muffins more in the future!
_________________________________________

Dandelion Flower Cookies
1/2 cup applesauce
1/2 cup honey
2 eggs
1 teaspoon vanilla
1 cup unbleached whole-wheat flour
1/2 cup dry oatmeal
1/2 cup dandelion flowers
Preheat oven to 375°F. Blend oil and honey and beat in the two eggs and vanilla. Stir in flour, oatmeal and dandelion flowers. Drop the batter by teaspoonfuls onto a lightly oiled cookie sheet and bake for 10-15 minutes.