We had a semi-busy Saturday. Sabrina and Abigail had to be at another local elementary school this morning at 8 a.m. for the "Great GATE Escape". It's a once-a-year event for all of the 3rd-6th graders that are in the Gifted and Talented Program. They had a great time and were so very excited when we picked them up at noon.
They both got to do a class on Geology cupcakes and learned about the different layers of the Earth, and then they had separate classes for the second session. Abigail's session was on Origami Math. She made a whole bunch of different origami sculptures... a piano, a swan, a house, a rabbit, and a box. Sabrina's second session was in Technology, and she learned how to do a PowerPoint presentation. They're both looking forward to the GATE summer program now, where as before Abigail was thinking of skipping it because she wasn't sure if she would like it.
Here's a random picture of my hubby smushing my sweet Henry baby. Henry is such a docil cat, and will just lay limp in your arms while you do stuff like this. Nigel... not so much.
Cecilia finally lost that snaggle-tooth. She bit into an animal cracker at snack time and it really started bleeding. I promised her a McDonald's ice cream sundae if she would just let me pop it out. She finally agreed, the tooth came right out with barely a tug, and we both enjoyed a hot fudge sundae.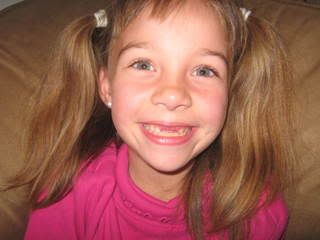 Is it too early to start singing "All I want for Christmas is my two front teeth"?
I started, and completed, my preemie hat for March. This one is from
Bev's Bumpy Hat
for preemies (and newborns). Sorry my picture came out so yellow... I'll try to take a better picture when it is light out tomorrow. I really liked this pattern, it was a very quick work-up and I love the little bumps!