Another week, another lazy Sunday. We relaxed around the house, watched some TV, and got dinner in the crockpot. I did my second mystery shop for GfK today. This one was for a phone store, but I am not sure whether I will get paid for it or not. To verify your shop, they required that you uploaded a picture of some brochure or business card that had the address of the store on it. None of the brochures in the store had the address, and the business card that I got from the salesperson did not have an address either - only the guy's mobile phone number. I explained all of that in the comments section, so hopefully I will still get the $9. I guess it's no biggie if I don't since it was only 2 miles from the house and took less than 20 minutes, but I tried!
After my mystery shopping was done and reported, it was time for the grocery shopping for the week. We went to Stater Brothers for the $1.77 London Broil and then to Vons for the 97c split chicken breasts. After we unloaded the meat, we headed out to WinCo for the "bulk" of our shopping. I will post our menu tomorrow for Menu Plan Monday.
We enjoyed the Crockpot Potato Chowder for dinner again this weekend. This time I actually doubled the recipe so that everyone could have seconds, and so that I had enough left over to pack a lunch for the hubby tomorrow.
We ended the day with hubby playing a video game, and with me shaving the teenager's head to match his Daddy and brother. He also bought a pair of aviator sunglasses this weekend, so now I have to get a picture of my three handsome guys in their matching haircuts and sunglasses!
To conclude this post with a picture for today, here's Nigel chilling on the back of the couch: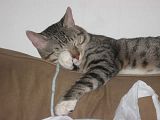 P.S. My hubby started blogging again. He had a blog before called the Fat Cyclist Rides, but he slacked off on it and it was evidently deleted for inactivity or something. He decided to start up a new blog, The Fat Cyclist Rides Again since I got him back into cycling. His link is over there on the right of my blog. :)